I love a good wet set, but I'm still mastering the technique.
After a number of questions and requests from people with similarly stubborn hair to mine, I've decided to blog about how I do my wet sets, and record the results each day for you. For nine days I won't wash or re-style my hair, and I'll avoid putting my hair up in snoods and other styles that hide it, so you can see how the hair really behaves as the wet set settles in.
After some trial and error I have found I prefer the rag curl method to rollers, as my hair is thick and it's easier and less fiddly to roll into rags. The ones I use have a bit of sponge in the middle, and close with a snap, and as a bonus, they create some defined shape around the hairline that I like on me. I've tried literally everything from hot rollers to curling irons to hot sticks to get my hair to curl, and I've settled on wet sets because they are the most practical on my hair.
Wet sets – The upsides:
The good thing about wet sets is that overall, they take less time, they cost less and do less damage to your hair (and the environment) – but they take longer to do at first. Wet sets create curls and shape that last a week or longer, and therefore less overall time is taken to maintain the vintage look you want, there is less need for shampooing and drying your hair, and less accumulated damage in done to your hair from other forms of heat-based curling. If I do my wet set right, I only need to brush it each day, and if desired, style it with a flower, a scarf or snood, etc. There is no need to re-curl or add products. Reducing washing, product use and curling reduces costs and time.
This method can also be done with plain cloth rags you may have around the house, making it affordable. Alternatively you can buy ones with a little sponge in the middle and a snap to close, or sew your own. No expensive equipment is needed.
For some women, rag curls require no heat at all, meaning you need no electricity. This is helpful for a bunch of reasons, including when you are doing some old school caravanning, as I often am.
This technique can work well for stubborn or thick hair that doesn't like to hold curl. Depressingly, curling with tongs or hot rollers has been known to drop out in 2 hours or less with my hair. Wet sets last much longer, as you'll see below.
If you are into 1940s styles, this kind of wet set automatically creates an authentic 40s vibe because women in that era did not generally have access to other curling methods. There were no stylists, home hair dryers or curling wands for women during WWII. An authentic 40s look is not 'flawless' in the modern sense – there is some frizz – but it is always curly and styled, and the curls have a particular shape that often came from this method.
Screen goddesses like Rita Hayworth rocked the wet set look.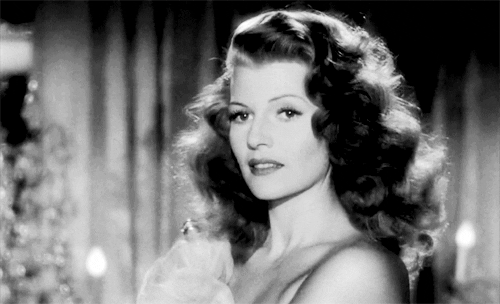 As did Marilyn Monroe, AKA Norma Jeane.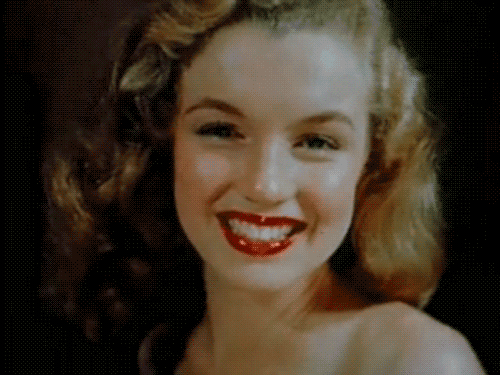 Wet sets also translate well into 1930s or 1950s styles. For the latter, you are probably going to want slightly shorter hair (as did Lauren Bacall, below) and you may want to use a bit more hair spray and pomade to finish the look, as fifties hair was often less frizzy than it was in the 40s. It was common in the 1950s to get your hair set at a salon once a week. This set you up for the next week, with only brushing required.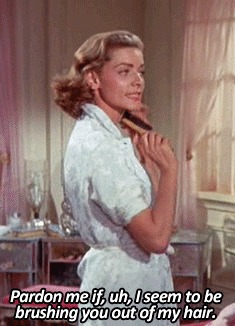 Wet sets – the downsides:  Because my hair is so thick, it sometimes takes a long time for my hair to dry. I can end up in rags or rollers for hours to get a good wet set result, and then sleep with them in, and then in the morning still find one section a tad damp. I may let it dry naturally in the rag curls during summer but I more often end up sitting under a hood dryer at home reading a book, even if I slept in them overnight. It is vital to make sure the hair is totally dry and room temperature before you remove the rags or rollers.
The other down side for me is that I tend to like it best from Day 3 onwards. I wouldn't want to have an important meeting the morning after a wet set in case I wake up and it is a frizzy, half-damp disaster. Having said that, I still like Day 1 hair, it's just that I know it's frizzy and not at its best.
What you need for a rag curl wet set:
Hair (Of a curl-able length)
Shampoo 
Conditioner 
Setting lotion
Rat tooth comb (one with a pointy bit on the end)
Brush
Hair rags (basic cloth rags or preferably ones with a bit of thin sponge in them and snaps to close, as seen below)
(Optional) Hood hair dryer. You can buy new ones on Ebay for under $100, and some vintage ones still work beautifully (though prior to 1980, some contained asbestos so beware) or you can buy the soft plastic ones that fit on the end of your hair dryer
(Optional) Hair oil for ends, or a smoothing product
The main thing you need to know is that you need a good setting lotion. This is an essential component. Without the setting lotion, a wet set will not hold, so all that lovely work you've done will end in disappointment. I use Lindy Charm School's setting lotion. Friends of mine also highly recommend Wavol, which can be purchased in large volumes.
Okay, here goes…
Day 0: 
Once my hair is washed and conditioned, I dry it off just a touch with a hair dryer so it isn't sopping wet. I often forgo this step in warm weather.
*Note: If your hair has been dried off too much, in my experience the wet set will not hold as well and the hair will be more likely to return to that initial shape you made while drying it. I aim to just take some of the heavy wetness out of the hair.
Shampoo and conditioner notes:
I change products often, but I am currently using a shampoo called Bed Head, Shampoo 2 by TIGI and 'Rehab' treatment by Leopard Lounge (I love the way it smells and feels), and that's what I used in this example. I mention this because wet set results vary depending on what products you use. Some shampoos and conditioners straighten hair, and some have too much artificially added 'shine', and will resist curl and add layers of unnecessary oil to your hair.
All washed and ready, with damp, clean hair? Now it's time to curl the hair into the rags.
Rag curl method:
Step 1: I part my hair on the side using a rat tooth comb, creating a neat, straight part. Personally, I like the part above the arch of my right brow.
Step 2: Starting with the front, I take smallish sections, spray them with two pumps of the setting lotion (as my hair is long/thick) to cover the hair section well, and I wrap it into the rag curl. I wrap the end of the hair into the rag first, and roll it under, towards the head, then close the snap. Once the snap is closed, if it hangs a little that is fine. This method is not as tight and 'neat' as it is with rollers. Note: If the sections are too large, it will take longer for that section to dry, and it won't be as curly.
For this look I have rolled the rag curls under (rather than rolling them facing up) and I have essentially used the part as my centre, and rolled each section down from that point. The only exception is the very centre, above my forehead, where I have rolled the hair back. You can see this in the image at top, and in the way I am holding my hair up, below. This is not a complicated or fiddly set. The main thing is spraying the hair with the setting lotion, getting the hair in the rags, and making sure no ends are poking out at weird angles. Don't try to make it perfect.
Step 3: Let your hair dry fully.
Best results often involve sitting under a hood dryer, but letting it naturally dry can work a treat. If you don't have a hood dryer, using a hair dryer on a high heat, on a low speed can help things along if you are stuck, but you will also need to wait it out a long time, and perhaps sleep in the rags (I usually sleep in them, which is why my wet set diary, below, starts the day after the wash day.) Patience is a virtue here. If your hair is either damp in any places, or still warm from a dryer, the curl will not set as well. Dry the hair completely and let it cool. Don't be in a hurry.
Step 4: Take the rags out. It's as simple as it sounds. When I take them out my hair is left in big ringlets. I use my fingers to separate the ringlets a little, and then I use a brush to begin brushing out the hair. If you've used the right setting lotion, and enough of it, and your hair is totally dry and cool, you should not have to worry about brushing causing your curl to drop out. To the contrary, the more you brush, the more shine you will get in your hair, and the more the curls will settle in.
Here are my results:
Day 1:
Here is Day 1 of my home rag curl wet set. I woke with my hair in the rag curls, made sure it was 100% dry, took out the rags and gave it a good brush – simple brushing, mostly from the part down. It's still a bit frizzy but I love, love, love the bounce. My hair smells great and has a very vintage look. The more I brush it (I use a Mason Pearson brush) the shinier it gets.
Apart from basic brushing, I also ran a very small amount of hair oil through the frizzy ends – a product called 'OGX Coconut Milk'. There are many products like this on the market. It is best to use a natural oil, very sparingly. Only use an amount about the size of a dime/quarter and don't put it near the hairline.(The bottle I have is tiny but has been going for about four years already. I will probably use it for another year.)
Here's what it looks like today, about an hour after I took the rag rollers out:
Day 2:
On day 2 the wet set is starting to settle in, and the hair is shinier and a little less frizzy. I really love the bend the rag curls create. Occasionally I catch my reflection and notice frizz, but another brush out fixes it nicely. I carry a small Mason Pearson brush in my handbag for just this purpose.
Day 3:
Day 3, I salute you. Yes, once again the wet set starts really working its best from around the third day. Looking back at Day 1, I can see how much less frizzy the hair is now. This is the result of brushing my hair a couple of times a day, morning and night, and allowing the natural oils to return to the hair. This is NOT the result of any restyling or any additional heat. I'm not using hair spray at this stage either, just brushing.
Day 4:
I've not been lucky with the weather today, and was twice caught in a misty rain (which is not recommended for hair!) but amazingly, the curl is still holding. I've noticed a little frizziness returning to the ends, thanks to the rain I was caught in, but otherwise it is going well. My hair looks shiny and bouncy. I love it.
Day 5:
I woke with big, frizzy curls this morning, and worried that the light rain the day before had really ruined it, but in under a minute of brushing it was back to this. I'm amazed by how much this wet set loves simple hair brushing, perhaps three times a day. It just takes a moment and makes the hair shine and the curls look fresh. I brush all of the hair (with my Mason Pearson brush, but any quality brush would work), but it particularly likes a brush from the part down, smoothing the crown. This is really easy vintage hair. Today I clipped it back with a hair flower.
Day 6:
The weather has been playing up again today, with stifling heat and humidity, so I am extremely impressed with how my wet set is behaving. Again, nothing is needed except a semi-regular brushing. Every few hours, when I think of it, or when I'm touching up lipstick or washing my hands, I get my little brush out a give my hair a quick brush through. Amazingly, it looks fresh again in seconds. I suspect I'll want to start using dry shampoo or something else soon, but for now it still feels good and doesn't look dirty.
Day 7:
The sunglasses are staying on today…
I did a corset making course over the weekend and yesterday we worked for 14 hours in ridiculous heat and humidity. Even with fans going and iced drinks we were all sweating like mad. I'm exhausted today, but I'm amazed by how my wet set is holding up. Again, it was frizzy when I woke and after brushing it for a few seconds this is how it looks with no product or hairspray added. It also doesn't feel particularly dirty yet, despite the heat. 7 days in, and 8 days since I washed my hair last, and all the shape is still there.
Day 8:
It's been nine days since I washed my hair and put it in rag curls, and the wet set has lasted beautifully. This morning I put the tiniest bit of Pink Flamingo dry shampoo from The Leopard Lounge, just in the part (where my hair needs a colour touch up). Amazingly, it feels fresh and the shape is holding pretty well even though it is 35 degrees and humid each day (and night!). Overall, I'd say it has dropped an inch or two over the week, but the shape has held.
Day 9:
This wet set has lasted beautifully, even in heavy humidity and heat, and a bit of misty rain. Today I'm booked to get a trim at my local salon, so this is the final day of my wet set diary for you. Overall, I used a bit of light oil in the ends to for the first few days, and used a light sprinkle of Pink Flamingo dry shampoo yesterday, but that's it. There has been no need to re-roll the hair or wear it in a scarf at night. I didn't wear my hair in victory rolls or snoods this week, so you could see how the hair handles, left alone. The shape of the wet set has stayed remarkably well, dropping an inch or two compared to Day 1 and Day 2, but holding the style. So there it is, 10 days since my last shampoo, and 9 days of wet set looks.
I hope you've enjoyed this tutorial/wet set diary.
I'm not a professional hair dresser, and my hair is so thick I had to buy two full sets of rag curls, and I still needed another mini pack for when I am one or two short. In other words, if I can do this, you can.
Good luck x
Written by Tara Moss, AKA Victory.
Photography at top by Berndt Sellheim.
Hair too short for this style? Try 1930's finger waves.