This Halloween I took the time machine back to 1954, the year Finnish-American actor and pin-up Maila Nurmi (born Maila Elizabeth Syrjäniemi) took Hollywood by storm as her iconic creation 'Vampira' in her late night TV show, The Vampira Show. Hired as the first ever TV horror hostess, and creating her own unique and enduring character, Maila paved the way for many who followed in her darkly stiletto-heeled footsteps.
Halloween is my favourite time of the year, and this year I decided to create an homage to Maila's Vampira. Sadly – as remarked upon by many horror historians and vintage enthusiasts before me – I found that Vampira and her creator Maila Nurmi remain largely unknown to many who otherwise recognise the iconography of the horror hostess she created. With her long, tattered black dress, she resembles her ghoul gang sister Morticia Addams, and despite the higher brows, shorter hair, insanely long nails and iconic acid bottle, this was who most people decided I was. The Brisbane Times even listed me as Morticia Addams when I was captured at Lithgow Halloween, in an image by brilliant photographer Dean Sewell:
The reason all this might matter is that Maila Nurmi created not one but two enduring icons, yet spent much of her life uncredited, underpaid and at times, outright impoverished.
History:
With Vampira, Maila Nurmi parodied the 1950s ideal of the perfect housewife and hostess, shrieking unexpectedly then purring her famous line 'screaming relaxes me', sharing recipes for martinis garnished with eyeballs and more. In this brilliant, recently unearthed skit on the George Goble show during the height of her fame, she parodies the notion of a 'plain Mrs Jones' one would find on 'any street in America':
Sadly her successful show was cancelled in 1955 after just one year, with mounting complaints from conservatives about her ghoulish and inappropriate humour. This was also around the time her close friend James Dean died in a car crash and she was the target of a gossip magazine 'expose' accusing her of witchcraft and causing his death by 'black magic'. She was out of work and living on next to nothing in LA when she took the bus to a sound stage to perform the role she is now known most for – 'Vampire Girl' in Ed Wood's cult classic Plan 9 From Outer Space (below, right). It was a totally mute role that saw her wandering through terrible cemetery sets with tombstones that wobble. As a result, her wonderfully dark wit is mostly lost to the world, and a striking but mute Vampira is known largely to horror enthusiasts and fans of the 1994 Tim Burton film, Ed Wood, in which Maila was played by Lisa Marie.
Above: My homage to the Vampira in Plan 9 and in The Vampira Show. Photographs of me at left are by Berndt Sellheim. Images at right are of the iconic Maila Nurmi/Vampira.
Less known is the fact that Maila Nurmi was the live-action model for Disney's Maleficent in the iconic 1959 animated film, Sleeping Beauty. As with many of her screen appearances (this one covered over with animator's ink) she was uncredited. This link was long rumoured by historians as the character has many similarities to Vampira in look and mannerism, but the connection appears to have finally been proved by diary entries found only after Maila's death in 2008 at age 85. Maila suffered in an apartment fire not long after her work with Disney in the 1950s, and by most reports became essentially a recluse for roughly two decades.
If you aren't aware of Maila's story, I highly recommend reading about her in The Monster Show by horror historian David J Skal (actually I recommend all of his books), or unearthing the documentary Vampira and Me, or Vampira the movie, neither of which I have been successful in sourcing here in Australia. Some online blogs and articles can also be found on her, and I've managed to find one complete ep of her show on Youtube.
So yes, this one woman created Vampira and helped create Maleficent. And most people don't know her name.
Morticia, Vampira and Elvira:
But back to the confusion. Mixing up Morticia and Vampira is understandable, as they are ghoul gang sisters, after all, and I adore both. The Morticia most people think of is from the excellent 1960s TV show with Carolyn Jones, or the later Angelica Huston movie portrayal of Morticia. Maila Nurmi's creation in 1954 pre-dates both, but took some of her inspiration from the early Charles Addams cartoon, back when the Addams matriarch was somewhat thinner and more asexual, and didn't even have a name yet. There are some distinct differences, and a fascinating history to Maila and her creation.
In creating Vampira, Maila drew on influences including the Charles Addams cartoon, corseted fetish models in Bizarre magazine, the Dragon Lady from the Terry and the Pirates comic and Disney's Evil Queen, creating a unique and striking character that has held appeal over the decades, even if many don't quite recognise who she is. She likely influenced the sexier TV and film versions of Morticia, and she influenced other horror hosts with her campy humour and style.
The character of Elvira was famously based on Vampira (The Vampira Show/The Elvira Show, the sexy costume, the horror hostess humour, etc). In fact, Maila had been working with producers to re-vamp the Vampira show in the 1980's when negotiations failed and they renamed it Elvira's Movie Macabre and went ahead without her cooperation. In 1989 Maila sued:
The plaintiff alleges that she had developed a character in the 1950s consisting of a distinctive dark dress, certain horror movie props, and a special personality. She contends that the defendants contacted plaintiff in 1981 to seek to recreate her character for contemporary audiences. After negotiations between the parties ended unsuccessfully, the defendants allegedly then created the character Elvira based upon plaintiff's previously developed character. The plaintiff alleges that she did not consent to the defendants' actions and that she received no compensation in connection with this appropriation. Subsequently, Elvira became a successful character on television and films which led to a number of merchandising spin-offs. – 1989 court documents.
Maila was unsuccessful in being compensated.
This great video by Lindsay Koski explains some of the connections between Morticia, Vampira and Elvira:
Cosplay:
Though similar to Morticia, the impossibly long nails and corseted waist, extreme arched brows, glossy belt (with no knife), beauty mark (left side, above the cheekbone) and shorter hair are all hallmarks of a Vampira cosplay, as is the acid bottle and parasol.
I'm a newbie at sewing, with a Youtube channel called Sewing Vintage with Tara Moss. I'm also a fledgling cosplayer, so we thought I could sew up a DIY Vampira dress and film some material as an homage to the Vampira I adore. My husband Berndt carved Vampira's weeping pumpkin, I made up an acid bottle and hand in a box (as you do), and for lack of her original set or any budget, my replica human skull 'Clarice' stood in for Vampira's carved couch skulls.
To achieve my cosplay version of Vampira I made a dress from a matte, stretch knit fabric, primarily overlocked for the stretch material, using a pattern drafted with the help of my sewing teacher and friend, Loretta of Bluebelle Vintage clothing. The material worked wonderfully, and allowed me to cut in to create the iconic sleeves and hem without causing runs or tears. It gave me some trouble around the neckline, however. It wanted to roll and stretch open, but after some interfacing, and some extra stitching it sits pretty well. I am just over 6′ tall. The dress measures 6'6″ from neck to tattered hem. In future I would like to add some darts through the waist for a better fit. Maila wore at least three different long black dresses in her Vampira role. There is one with a front zip and very pointed bust I would love to try in future.
Vampira's nails were a challenge. How did she do it? After much searching, I found some images of Maila pulling on what appear to be sheer, flesh-coloured gloves with the famously long nails attached, though in most images it appears there is no tell-tale line at her wrist. After trying a few methods I settled on wig tape to apply acrylic nails over my own nails, as wig tape has incredible hold but a low profile. Wall mounting adhesive was another option but I found the nails sat up too high off my own nails. As the nails were stuck on with tape (shown below), they could be removed and re-applied through the day, which was vital, because doing much of anything with my hands was next to impossible while wearing them. The acrylic nails were sculpted by Jordyn of Bellezza Beauty for me, and thankfully survived in perfect shape for future cosplays.
One of the greatest difficulties was trying to achieve Vampira's high eyebrows with some accuracy. I used non-toxic glue stick to paste my own brows flat, then used makeup to draw over them and cover the naturally blonde brows with foundation. Even with the right tools, brows that high are difficult to achieve without creating an overall 'clown' effect instead of Vampira's distinctive look, so I made them as high as I felt my face could take, so to speak. Maila also sculpted her brows differently between the fuller look in her 1954 publicity shots and her later Plan 9 role, which was even higher and more thin in shape. I chose the Vampira Show brows, rather than the later version. In Burton's Ed Wood, Lisa Marie as Vampira sports a higher, thinner brow reminiscent of the Vampira of Plan 9.
Here are some of the results of my Vampira cosplay: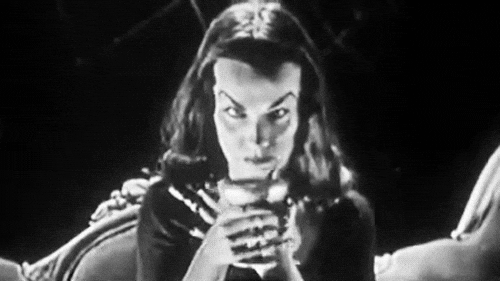 I wasn't happy with the hairline I managed to achieve and would love to hear from experienced cosplayers about how her incredibly high and wide forehead shape – looking much like Milton Caniff's Dragon Lady in Terry and the Pirates, below – could be approximated. It wasn't as extreme in all of her publicity shots, but the look is ghoulishly delightful.
I had to make do by drawing in a widow's peak with a black (size extra large) wig cut to her length. In some footage, including the gif above, she appears to be wearing a two piece wig with a front section in a widow's peak, and a regular wig hairline worn further back, but I am unsure. As it was, the (synthetic, of course) wig I special ordered for my extra large size wouldn't take heat, so I didn't achieve the slight wave of her 1950s persona. It also wouldn't cold wet set. Oh well. I'm a newbie at this.
As for her waist? Well, I am much larger than Maila was, and I did what I could using an underbust corset I made, worn beneath my dress – but there will only ever be one Maila Nurmi.
Here's to her.
Vampira forever. Happy Halloween, all!
Written by Tara Moss.
Photographs of Tara Moss by Berndt Sellheim.
We believe this images of Vampira are in the public domain. If we are mistaken and you own the copyright and would like them removed, please contact us below and we will remove them immediately.